Guide for a discipline that may replace Hearthstone in Virtus.pro.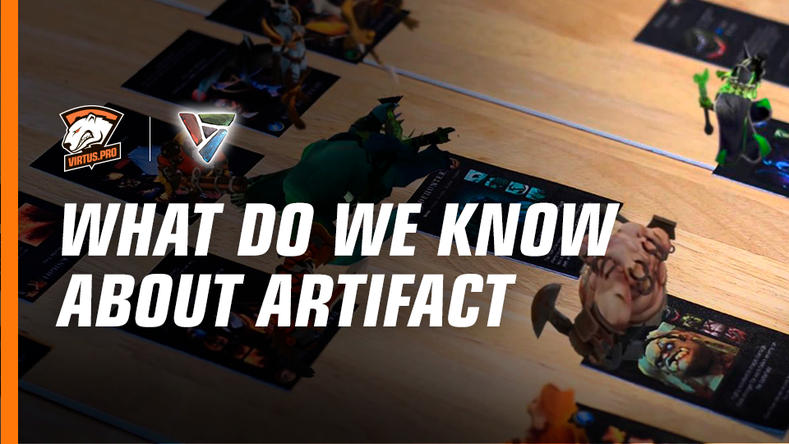 Virtus.pro Artifact line-up – is it confirmed?
Yes. Virtus.pro general manager Roman Dvoryankin covered this topic in a recent interview:
"It is certain that VP will acquire an Artifact line-up in the following year. Our strategy and our budget for the next year account for that. From our side, we'll also focus our attention on this discipline. We are constantly in touch with Valve, so our players will be among the first to participate in the alpha-testing phase.
You can already play Artifact in their office. Some WESA representatives we've met at the ESL Pro League Finals already tried it out – and they're amazed by it. Unfortunately, the details can't be announced yet – just emotions. I won't hide that we talked to our [Hearthstone] players about Artifact. Everybody said they'd be happy to try it."
What is Artifact?
Artifact is a card game where the player controls five characters using their cards and abilities. The game is played on three fields, akin to Dota's lanes. At the beginning of each turn, creeps spawn on each lane.
What are the main differences from Hearthstone?
The game features three playing fields that resemble Dota's lanes. It seems the player will have to constantly shift their attention between these mini playing boards,
Since the player controls five heroes at once, their placement on the lanes may be of utmost importance, as well as the micro-control, as each lane spawns creeps at the beginning of every round.
Cards can be used as on heroes, as on the field itself, analogous to the majority of card games. Most likely, Artifact will utilize the card packs for money model, akin to Dota 2's treasure chests and CS:GO's cases.
Another key difference lies in heroes' multiple abilities, as well as the number of heroes itself (considering that every player controls five heroes at once).
It is possible that Artifact will use a draft phase during the hero pick phase. It's another crucial mechanic from Dota.
Has anyone played Artifact yet?
Almost nobody. At the moment, it is only playable in the developer's office. "I'd be happy to pay a visit, but flights from Kazakhstan over there are rather expensive, - says Ole "Naiman" Batyrbekov, - it's not clear whether it'd be difficult to transfer to Artifact since I've never played Dota. All I saw was the TI7 presentation. With the message: "That's Artifact. Beware, Blizzard!". And Blizzard did."
What will the cards look like?
Nobody knows yet. There is one picture, but it's not final.
Artifact in a nutshell:
The game has three fields similar to Dota's lanes
The player controls five heroes
Kills of enemy heroes reward gold
You can purchase item cards with the acquired gold and use it on your heroes
Every turn, each field will spawn creeps
You can use creature cards
You can use spell cards
Some cards may be used on the playing fields themselves – the cards will have lasting effects on the lanes
Every hero has abilities similar to their Dota counterpart (for example, Bounty Hunter's Track rewards additional gold)
Author: Anton Kozlov