Sasha Dio has been cosplaying Dota 2 characters and cheering for Virtus.pro for several years. How much time and money does it take to make an Invoker costume, how do people react to the look and what prompted a plush Lil — an interview you cannot skip.
On Invoker costume
I used to cosplay anime and movie characters, but I fell in love with Dota 2 heroes to the point I wanted to become part of this world. My first full-fledge cosplay was Invoker. I liked his look the best and people cosplayed female characters a lot, so I decided to go for something different. It is with this cosplay that I went to EPICENTER. It took me two months to put the costume together, although I could've done it faster. The thing is that it was my first cosplay of this kind, so I completed it through fire and error. The most difficult part was finding materials that would make the costume like that on the character. Then you need to measure everything so that it wouldn't look too massive.
The problem was that Invoker has large armor and wide shoulders. I had to make sure it looks graceful on a girl. No atelier service — we made the costume with a friend who volunteered to help. I bought supplies and started to work on woven parts, such as the skirt. I couldn't sew, of course, but I picked it up along the way. My grandmother helped me with the patterns, although she is not a seamstress. If we add tools that will be useful later, Invoker cost me 25,000 rubles. Now I am buying materials for my next cosplay, Silencer. By the way, two people wanted to buy the Invoker costume, but I do not intend to sell it for now.
On attending EPICENTER
We brought the costume in big 200-liter packets, because there was no way to fold the cloak. We just put it to the side in the compartment on our way to Moscow and left it in the luggage section on the return trip. When people saw me in the costume, they said, "I would see her cast." Some people said that I looked like a guy. I didn't care much and just enjoyed the fact that the costume was just like in the game. People pointing it out made the experience even better. Unfortunately, it's difficult to get around. And you can't see much while wearing the blind lenses. It's possible to at least notice people's outline in the shade, but you can't see anything in the sun.
On supporting Virtus.pro
I've been playing Dota 2 since 2014. I prefer to go Support and pick what my team needs. I got interested in competitive during The International 2015 when I saw Virtus.pro and started to root for them a little bit. I never understood hype surrounding Na'Vi and got to like VP because of their aggressive style — they could finish their match in 20 minutes. I play the same way, that's why I remember the roster with God and DkPhobos. The current squad have great results and I like them too. Unfortunately, I didn't manage to meet the team at the EPICENTER. I only got to see them backstage after the last game.
On plush Lil
I felt like it would be interesting to sew something other than a costume. That's what inspired me to make a Dota player plush figurine. Why did I choose Lil? We have a similar playstyle, although Solo's should be closer to mine. We both play support.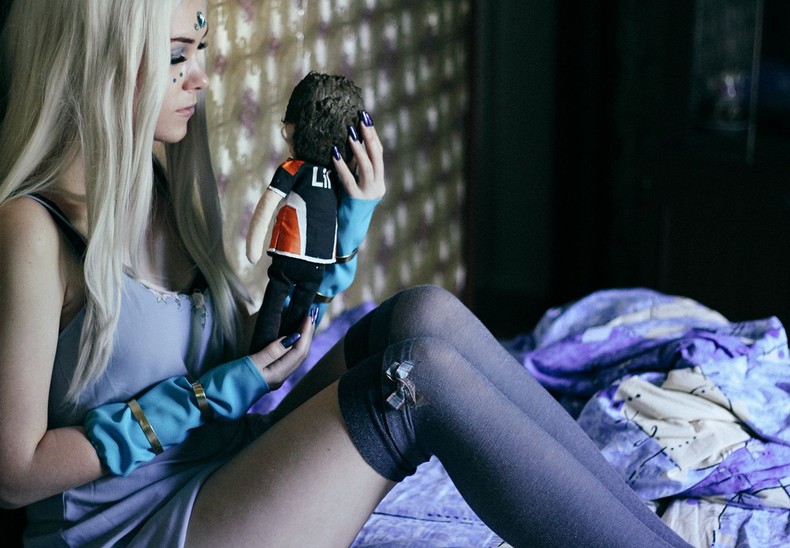 I decided to show my appreciation for Lil and send him a photo. He said, "Oh, oh, oh, wonderful. May I publish it?" I was totally on board! I especially liked the comment about the figurine being a voodoo doll, "Be careful at The International, otherwise the girl will insert a pin into it and you will miss a spell."
Author: Gleb Chernyavskiy