A report from Cologne, where the Poles joked all the time, the referee put on a show in the locker room, and Paranoia predicted his own injury.
"Goalie, are you sure you're all right?" Snax asked me back at the hotel.
Легендарный для украинского футбола стадион в Кельне готов принять первый в истории киберспортивно-футбольный махач! #Round31 pic.twitter.com/VzhV0tvyBk

— Vitalii Volochai (@v1lat) July 10, 2017
V1lat had already posted a photo of the set-up pitch, and the goals looked like they were half its width. Not the kind of thing to make anyone feel at ease, but for everyone's sake, I had to say, "Of course I'm completely fine, Janusz". All the more so because there was a rumor that SK got a really high-quality goalkeeper who was a video producer from Bulgaria.
"Glebke, when was the last time you played football?" Taz asked.
"Last week, in my amateur league."
"TaZ hasn't played since sometime last century," Kuben said with a stony expression, and the entire team exploded in laughter.
"Gleb-chleb, Gleb-chleb," pashaBiceps said, grinning.
"Gleb sounds like chleb, which means bread in Polish," Snax explained promptly.
I had no choice but to tell them that the word meant bread in Russian as well, and that when I was a kid, pretty much everyone felt it their duty to say that rhyme.
* * *
Our team arrived at FC Cologne's stadium too early, before the filming crew had time to set up, so we had to get out of the locker room and walk in there again for the camera. It's a very novel feeling, having the things you've seen so many times in football broadcasts now happen to you. Like Messi or Ronaldo, you exit the bus in front of cameras, enter a large locker room with a swimming pool, and see your uniform neatly laid out. The guys found many things novel about it too, despite being long used to getting lots of attention. For a few seconds, they were just relishing the moment, and only then began to take pictures for Twitter.
.@cios_snax and @paszaBiceps are ready to show their skills! Follow the online reportage of the match on our site: https://t.co/UHWOLmcOA4 pic.twitter.com/sBbqIvxw2b

— Virtus.pro (@virtuspro) July 10, 2017
An hour and a half before the scheduled start of the game, the guys from SK Gaming weren't even thinking of getting on the pitch, while Virtus.pro's warmup was already in full swing. pashaBiceps made the best impression in a game of four square; never in a hurry, he aimed his every pass as though it was an AWP shot and he couldn't afford to miss. However, the warmup ended in some bad news: NEO stretched a muscle and announced gloomily that he wouldn't be playing.
Next came the briefing with the referee, Guido Winkmann from the Bundesliga. He explained the rules, displayed his arsenal of red and yellow, and then produced a can of vanishing spray. The referee was about to say that it was used to mark the spot for a penalty kick and the position of the wall, but he was beaten to it.
"That's gas, right? Seriously, ref, you've brought tear gas? Is that in case a red card isn't enough?" the Poles bantered.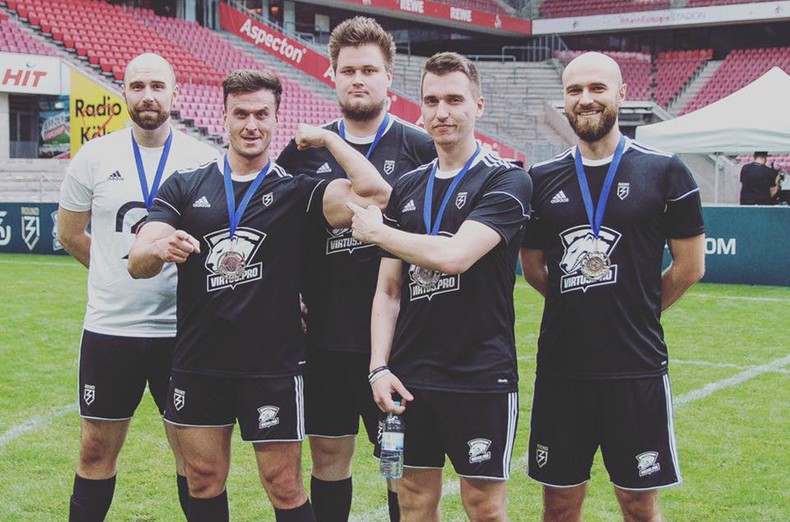 The referee was both laughing and looking quite bewildered by the barrage of jokes coming from the Poles during his speech. It seemed that professional footballers had never trolled him as boldly.
* * *
"Glebke, I'm expecting a clean sheet from you. We need a goddamn clean sheet!" TaZ pep-talked me as Virtus.pro went into deep defense from the get-go.
It was reminiscent of a classic hold round where no one would venture forward, in the hope that the opponent became impatient. While a little more active, SK didn't attack recklessly either. Eventually, the same thing happened that we've lately been seeing from Virtus.pro in CS:GO tournaments: Snax took the initiative and scored two great goals in the first half. The match went into break at 2-1 for VP; the Brazilians couldn't get past the powerful Poles, and weren't quite showing the level of football that had been expected from them.
Snax scores a brace! 💪🏼 pic.twitter.com/w3qGblVJbL

— Virtus.pro (@virtuspro) July 10, 2017
The same sticky game continued for nearly all of the second half; Virtus.pro relied on individual skill on offense, and on numbers in defense. pashaBiceps scored two very quality goals, and VP had a very comfortable 4-2 lead shortly before the end of the match. There was, however, an unpleasant episode too. Ivan "Paranoia" Tipukhov, the Ukrainian player from our LoL roster, was injured. Incredibly, he'd predicted it!
"Roman Dvoryankin asked me if everything was fine," Paranoia recounted. "I said yes, but also that I had a feeling something bad was about to happen."
A few minutes later, Ivan twisted his ankle badly in a collision and, for a while, needed the assistance of two people to move around.
A terrible thing happened on the field in the meantime: the Virtus.pro squad was very tired and couldn't handle SK's end-game surge of momentum, which resulted in three goals over as many minutes. The Brazilians, who had two Germans on their team, had no problem maintaining their winning score. "German referee; like always, referees win," TaZ said, summarizing SK's stunning comeback.
real football rematch @SKGaming vs @TeamVirtuspro after next @epicentergg ?

— VPSneg (@VPSneg) July 10, 2017
A return match is a possibility. ESforce Holding's managing partner Anton Cherepennikov asked on Twitter if fans would like to see a rematch. Obviously, everyone agreed; instead of another exhibition match, we may get a tournament, we may now get a tournament between four teams.
Author: Gleb Chernyavskiy