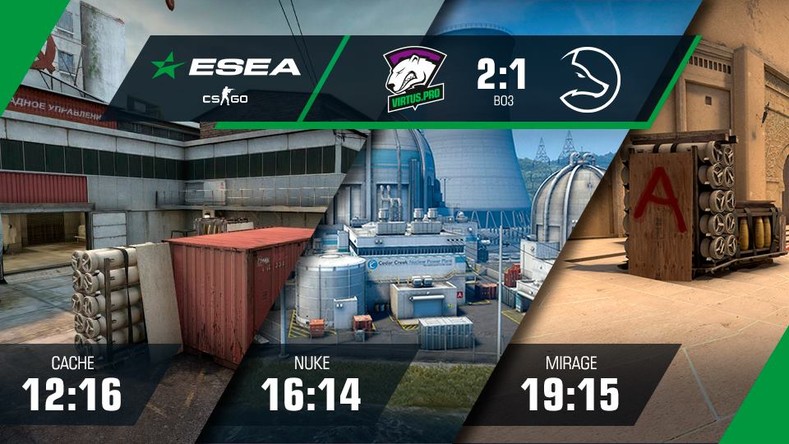 Virtus.pro fans were waiting for the game against LDLC for the whole weekend. Polish crew got closer to advancing to the Pro League. The French during last IEM Chicago showed strong and promising CS, winning over fnatic or Astralis.

The game has stared with our pick - cache. Close half finished 8:7, but did not give us ensurence of winning whole map. Best player of the first map was the Brit - Alex, who made 26 frags and reached 1.49 k/d ratio. On our side, morelz was the one who made the biggest impact. Final score was 12:16.

French organisation suprised supporters with their map pick. Nuke was at stake, which recently looked very strong in our performances. Couple of individual actions and team cooperation on defending side gave us strong start and 11 rounds. After side change, we got hint why LDLC chose nuke. It became lot harder to gain points on terrorist fence, and opponents defence till the last minutes heated up atmposphere. Finally 16th point dropped to our poll.

Third decider was Mirage. As it often happens lately, polish crew supplied us with appropriate ammount of emotions heading to overtime. Fortunately sleep will be easier with knowledge that it was Virtus.pro who walked through runoff with glory. (19:15)

Filip "neo" Kubski: "We could finish last map without overtime on nuke. Fortunately our weaker CT side didn't affect on gaining advantage on terroriste side. We didn't manage to close map fast and easy. Anyway team cooperation was really smooth. We are waiting for one more game to win, and then we can fight for ESL Pro League slot and ESEA MDL finals."

As neo added, LDLC's choice wasn't a surprise for the players. Virtus.pro was prepared for such pick.
Our opponent got released from Kinguin - Sprout competition. Polish team won 2 maps in a row.
Simultaneously to our game there was an Optic - Epsilon game, whose winner will place one of four slots in path to ESL Pro League.