Virtus.pro Paladins roster captain Lev "eLvenpath" Strokov on the January's World Championship, Paladin's popularity in different countries and importance of McDonald's for the team.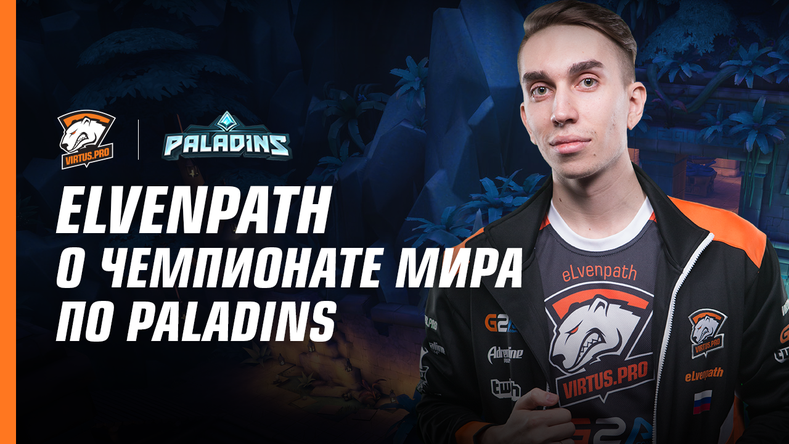 The world championship lies ahead. Will the opponents be tougher than those you've faced in the Paladins Premier League?
I think the European region will be the most challenging. Just like during the previous Paladins Premier League LAN. Both Chinese participating teams were left without two of their players – their visa was denied. As a result, the Chinese will arrive as mixes with two subs. Australia always was an interesting region – team Kanga. They were quite fierce opponents back when there was no draft. Since everyone was picking any hero they wanted, they performed really well. I'm not sure whether they'll manage to quickly adapt, but that's just my assumption.
Is draft in Paladins as important as in Dota 2?
For a year, there was no draft in Paladins, so you were free to pick whatever and to one-trick-pony. You knew the powerful meta heroes and just picked them without worrying. But not much changed for me personally. I'm a tank, so I usually play two heroes.
If the Chinese arrived in their full rosters, would they be serious opponents?
Most likely. The same story as with Kanga: their individual performance is strong, but I'm not sure about their draft. The deal is the following: in the European region, there are four powerful teams who participate in the world championship. These four teams play against each other regularly. In these skrims, we constantly test lots of most various ideas. Since all players are skilled, the level of these skrims with innovative ideas is also high. Australia and China don't even come close in level of the competition the European region has. This is why I assume they're not going to show anything spectacular in this world championship, but I may be wrong.
Virtus.pro's first Paladins trophy. These guys are tough!
All regions are represented in the world championship, but where is Paladins the most popular right now?
America takes the first place, Brazil – second, Russia – third.
Did the meta change since your Paladins Premier League victory?
No, because Hi-Rez Expo (the world cup) will be played on the same patch as PPL. Our team demonstrated everyone who to pick and how to play on that LAN. That was the meta shift – all the teams play according to this scheme now. Draft in Paladins means everything – you can easily tell the outcome of the match by just looking at it.
Your team doesn't have an analyst. Why?
I don't think an analyst is needed in Paladins. Some American teams have analysts, but I have other vision. If you're an analyst, you're required to have the experience to match that of the players' and be on the level. And here, the players don't need to be told anything as there are no people with experience big enough to tell anything special. It works and is everything in CS:GO and Dota 2, where a guy with loads of experience can just brief everyone.
Did you just describe yourself in five years in Paladins?
I'm sure I won't become an analyst. I'd rather be a successful streamer.
From which discipline it is the easiest to switch to Paladins, excluding Overwatch?
From Team Fortress, CS:GO. In other words, from a shooter. The MOBAs have nothing to do with it, really: it's all about shooting.
I feel slightly nauseous when watching Paladins. Did you ever feel the same?
What a weird question! I've only had one person tell me about it before. No, I never feel nauseous. I think it's just because you're not used to it. Everyone is used to CS:GO's slower pace or Dota 2's top-down camera perspective. Everything is completely different here, of course, the pace is much quicker. But that's just a matter of habit, in five hours max it'll be completely fine.
You've finally got to meet your team closer during the bootcamp and in PPL. What did your remember the most? I've been told that your Scandinavian teammates loved Kiev's McDonald's since their hometowns didn't have them.
They ate out there not because their towns didn't have McDonald's, but because they're just simple guys. They just want to sit and play and plebeian amusements, like visiting Kiev and eating national Ukrainian cuisine, aren't interesting to them. They liked having McDonald's five minutes away from the bootcamp. In this McDonalds, they had breakfasts, lunches, and dinners, despite the fact that our manager Misha kept bringing normal food. I didn't go to McDonald's and instead visited decent Kiev's establishments.
Author: Gleb Chernyavskiy
"I think the next World Championship will be worth $1 million." VP Paladins team captain's interview